Autoterm Diesel Air Heater - Installation & Instructions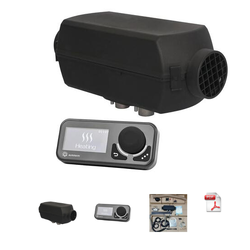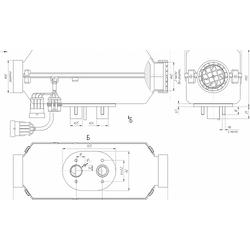 Are you planning to travel off-grid in winter or the colder regions but worried about heating up your Caravan? Look no further than Europe's quietest Diesel Heater, designed for the extreme cold in the Tundra of Siberia and the Seas of the Arctic Ocean.....introducing the Autoterm Diesel Air Heater.
Autoterm air heaters are designed to provide warm air to living areas of vehicles and buses, as well as to cars, motorhomes, campers, in housing, and cabins of yachts and ships in the cold seasons.
Below are links to commonly sourced PDF instructions for the Autoterm Diesel Air Heater
What is included:
What are the specifications of the Autoterm 2D Heater?
Works on diesel fuel
Maximum heating power of 2 kW for 12V model
Can heat up to 75 m3 with hot air in one hour
Used to heat small size space
Reliable operation in low temperatures (up to -45°C/-49°F)
Low noise level, low fuel consumption (Max – 0,24 l/h), implemented self-diagnostic
Can be operated with the control panel or via smartphone with an additional modem
Best suited for small truck cabins, commercial vehicle cabins or cargo compartments, small campers, off-highway vehicles, boats (up to 33 feet/10 m long), small greenhouses, and Tiny houses.
Why would you choose AUTOTERM 2D?
It is the most compact heater model in the product line.
What situations is it suited to?
The AUTOTERM 2D heater is intended for use in any kind of means of land transport (for example, low truck cabs, commercial vehicle cabs, or cargo compartment), as well as on boats (up to 33 feet/10 m long) and on the premises.
What are the benefits of Autoterm?

The capacity of the air heater AUTOTERM 2D is between 0.8 kW and 2 kW, and it is capable to heat up 75 m3 of air hourly, furthermore, maintaining excellent economy and consuming between 0.1 l and 0.24 l diesel per hour.
The main advantages of AUTOTERM heaters are stable operation at very low temperatures, inductive (brushless) electric motors designed for uninterrupted operation for 12,000 hours, as well as low fuel consumption, and reasonable price. Our heaters have proved their excellent quality, working in aggressive environments, such as, for example, the marine environment and careers. Our heaters have a single European guarantee and civil liability is insured.
Heater AUTOTERM 2D may be controlled both by the standard control panel (PU-5) and standard alarm system (provided there is a free control channel), as well as by modem (available separately), supporting control via call/sms, and by a smartphone application, which is available both in the operating system Android, and IOS (application Autoterm Control).
Any inclusions I should know about?

Just like all the other Autoterm heaters, the heater AUTOTERM 2D is also delivered with a full assembly set including an air supply pipe with an 80 cm long silencer, a silencer of exhaust gases, a 1 m long discharge pipe of exhaust gases with 30 cm long insulation, 5.5 meters long polyamide fuel pipe, fuel collector in the fuel tank, digital control panel (PU-5), cables, rings, bolts, etc.
Autoterm offered AUTOTERM Air series air heaters are independent, diesel-powered heating systems that can be easily and conveniently installed or retrofitted in your vehicle.
The heater unit is supplied with fresh air from outside or well-ventilated air from the room, which is taken through an air intake pipe to the internal combustion chamber. The received air is then mixed with the fuel, which is delivered through a metering fuel pump, and the air-fuel mixture is formed. This mixture is then ignited by a glow plug, which initiates the burning process to heat up the heat exchanger. Air is then drawn from the air inlet with a fan and passed through heat exchangers and the radiator fins. Finally, the heated air is pushed through the hot air outlet.
AUTOTERM Air series air heaters are excellent products for spaces that need to be heated quickly, or where there is no built-in central heating system. For example campers, boats, and cabins. Etc.
All heaters are equipped with built-in fail-safe systems and sensors. The self-diagnostic system will automatically shut down the heater if it encounters any errors (such as battery drain, overheating of the heater, low fuel level, air pump malfunction, or flame failure) and is thus a completely safe product.
All AUTOTERM Air series heaters are equipped with brushless induction motors that ensure low noise levels as well as a long lifetime for your device, and the capability to operate in extreme environments as low as -45°C/-49°F.
AUTOTERM Air series heaters can be controlled with various control panels or remotely via your iOS or Android smartphone (remote control modem sold separately).